Christian Web Ministry
Linking Banners
---
If Christian Web Ministry has helped you in any way, & you would like to link to this site, the following Linking Banners are provided for your convenience.
Do Not link directly to the Christian Web Ministry linking Banners on this page. Please download them & then upload them to your own server. If you need assistance, contact me by filling out an e-mail form located on my Feedback Page.
If you would care to exchange banners (reciprocal linking) with Christian Web Ministry, contact me by e-mail form at the link shown above. If you would like to see which sites have exchanged banners or links with us, visit our Banners & Links Exchange Page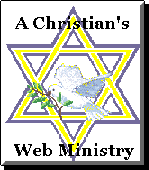 The following banners were created with blank banners/buttons courtesy of Morning Star Graphics






The animated dove graphic has a transparent background, it will match any color scheme. You may link the banner to any page on the Christian Web Ministry site, or to https://acharlie.tripod.com/.
Thank you for taking the time to visit
acharlie.tripod.com
Shalom,
Charlie Martin
If you find this site to be worthwhile, please
vote for it by clicking one, or all, of the above links.
Thank You.

If you would like to share this page with someone, click on the above icon.
Total number of visitors to
A Christian's Web Ministry site.
Total number of page visitors.

Christian Web Ministry Linking Banners
page updated 04/02/2011.