Second Coming
of Jesus Christ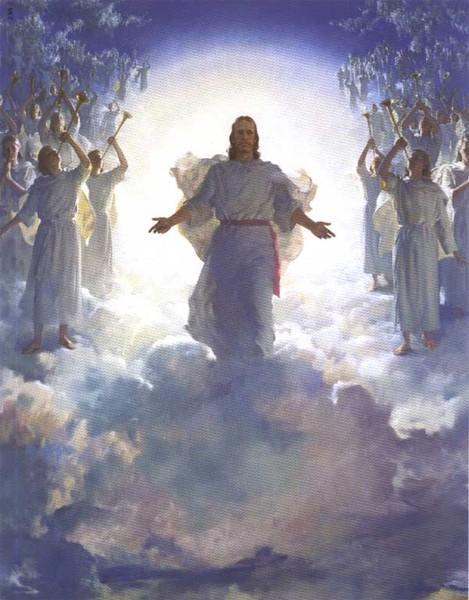 Image courtesy of Virginia Smart.
"They will see the Son of Man coming in a cloud with power and great glory."
(Luke 21:27)
The second coming of Jesus Christ is a favorite topic of speculation among the members of the Christian religion. Holy Scripture has been misinterpreted and bent to support the various claims by self appointed prophets, claiming to know when the second coming will occur. This is nothing new. It began with the early church and will continue until Jesus' 2nd coming. There are quite a few who call themselves preachers, prophets, church leaders, etc., who claim to know when the second coming will take place. Holy Scripture labels ALL such people, churches, denominations, groups, etc., as False Prophets. Anyone who claims that the time of the second coming has been revealed to them either through study or direct Divine revelation is a False Prophet. Those who claim that the 2nd coming has already taken place, Preterists & Jehovah Witnesses to name two such groups, have no valid biblical basis for their claims. The Jehovah Witnesses, who claim to be Christian, and have angelic messengers, have predicted the date of Jesus' second coming in excess of 100 times. After all their predicted dates passed without Jesus' glorious return, they gave up the predicting and now claim that Jesus' Second Coming has already occurred. The Bible clearly makes mention of God's feelings concerning false prophets.
- - "When a prophet speaks in the name of Jehovah, if the thing does not follow nor come to pass, that is the thing which Jehovah has not spoken. The prophet has spoken it presumptuously. You shall not be afraid of him."
(Deu 18:22)
The Hebrew word used for 'afraid,' in this verse, means to abide with, assemble with, or follow. Clearly, God says to get away from such prophets, teachers, etc. Under the Levitical Law these people were to be stoned to death. Under the New Covenant we know that God will deal with them.
Men in their arrogance, set dates for the second coming even though God's Word clearly states we will not know.
- - "But of that day and hour no one knows, not even the angels of heaven, but My Father only."
(Matthew 24:36)
- - "For it will come as a snare on all those who dwell on the face of the whole earth. "
(Luke 21:35)
In most cases, the false prophets have changed from naming exact dates; to naming a year, or group of years.
Well, what's wrong with that, you might ask?
Each time a date is set and it passes, God's Word is held in greater disrepute. Trust in the validity of Holy Scripture is eroded. More apathy towards the Second Coming of Jesus is generated. Many (Preachers ) are making their livings, and much more, by claiming to be wise enough to read between the lines of Scripture, or they have solved the biblical code, allowing them to fathom the mystery of the date.
Whose work are they really doing?
Who would benefit by eroding trust in the validity and reliability of Holy Scripture, and generating apathy towards Jesus' 2nd Coming?
The answer is quite simple, although they may believe they are serving God, they are doing the work of Satan.
However, we can understand that His Second Coming is getting closer.
- - So they asked Him, saying, "Teacher, but when will these things be? And what sign will there be when these things are about to take place?"
(Luke 21:7)
- - "So you also, when you see these things happening, know that the kingdom of God is near."
(Luke 21:31)
What things are we to look for?
Many passages of Scripture tell us. Here is a summary of a few of them.
- "many will come in My name, saying, 'I am He,' and, 'The time has drawn near."
(Luke 21:8 & Mat 24:5)
- "when you hear of wars and commotions, do not be terrified; for these things must come to pass first, but the end will not come immediately."
(Luke 21:9 & Mat 24:6)
- "Nation will rise against nation, and kingdom against kingdom."
(Luke 21:10 & Mar 13:8)
- "there will be great earthquakes in various places, and famines and pestilences; and there will be fearful sights and great signs from heaven."
(Luke 21:11 & Mat 24:7)
- "And there will be signs in the sun, in the moon, and in the stars; and on the earth distress of nations, with perplexity, the sea and the waves roaring."
(Luke 21:25, Mat 24:29, & Isa 13:10)
- "Men will be lovers of themselves, lovers of money, boasters, proud, blasphemers, disobedient to parents, unthankful, unholy, unloving, unforgiving, slanderers, without self-control, brutal, despisers of good, traitors, headstrong, haughty, lovers of pleasure rather than lovers of God."
(2Ti 3:2-4)
- "Let not anyone deceive you by any means. For that Day shall not come unless there first comes a falling away, and the man of sin shall be revealed, the son of perdition, who opposes and exalts himself above all that is called God, or that is worshiped, so that he sits as God in the temple of God, setting himself forth, that he is God. "
(2Th 2:3-4, Mat 24:15, & Dan 9:27)
Now that we know what to look for, we know that the Second Coming is near. "Near" such an imprecise term. What does it mean, tomorrow, next week, next month, next year, ten years from now, forty or more, years from now? The only certainty is that the 2nd coming is closer today than it was yesterday.
"For as in the days before the flood,
they were eating and drinking, marrying and giving in marriage, until the day that Noah entered the ark, and did not know until the flood came and took them all away, so also will the coming of the
Son of Man be."
(Mat 24:38-39)
We, as Christians, need to live our lives as if we knew Jesus was coming in the next second. If knowing the date and time of Jesus' second coming would make a difference in the way we live and act, we have missed the true Gospel message. This fruitless speculation about the date of the Second Coming of Jesus Christ, serves not God, but Satan (the great deceiver).
"For as the lightning comes out of the east
and shines even to the west, so also will be
the coming of the Son of Man."
(Mat 24:27)
[Note: All links on this page open in a new window.
If for some reason, security settings, ISP software, etc.,
you are unable to navigate this site, please visit the
Site Map page.]
Thank you for taking the time to visit
acharlie.tripod.com
Shalom,
Charlie Martin
If you find this site to be worthwhile, please
vote for it by clicking one, or all, of the above links.
Thank You.

If you would like to share this page with someone, click on the above icon.
Highly Recommended Christian Sites
Museltof.org
UK APOLOGETICS
These two sites are completely Bible-based. They offer an extensive collection of informative articles, commentaries & Scriptural studies.

Total number of visitors to
A Christian's Web Ministry site.
Total number of visitors to this page.
Return to
Christian Web Ministry



Main Index & Site Map graphics created with Xara 3D Generator
located at bottom of my Links Page

Second Coming of Jesus
page updated 02/06/2010.