Good Shepherd & His Sheep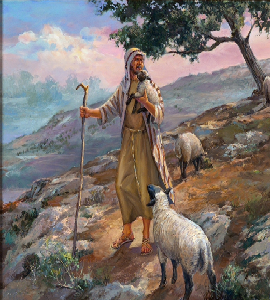 "I am the good shepherd; and I know My sheep,
and am known by My own."
(John 10:14)
As with all of His statements, this is a concise, to the point, pronouncement by Jesus Christ. Yet, it embodies much more than the picture of a shepherd and his flock. To fully understand the scope of Jesus' word picture, it helps to understand the role of a shepherd and the nature of sheep.
A good shepherd did not envision his responsibility as just a job. Sheep, at the time of Jesus, were very valuable critters. They provided food and wool for clothing. The care and protection of the flock was the shepherd's life. Jesus points out in further biblical statements, that a good shepherd would give his life for his flock. The shepherd would lead his flock to pasture and water; tend to their wounds; guide them; calm them; keep them together; and, rescue them from pitfalls and briar patches. He was the sole provider of all that the flock needed.
Sheep are single minded, skittish, near-sighted, critters. They are one of the few creatures who, if let on their own, will totally destroy their pasture. They are easily terrified and prone to wandering off from the flock. They require constant attention. They will continually repeat wandering and getting into dangerous situations without ever learning to avoid them.
The relationship between a shepherd and his flock is very unique. Jesus outlines part of this relationship in John 10. It was common, at various times, for shepherds to bring their flocks into community pens at night. Several flocks would be housed together. Yet, when it came time to separate the flocks all that was necessary was for the shepherd to call out to his sheep to lead them out of the pen.
"To him the doorkeeper opens, and the sheep hear his voice; and he calls his own sheep by name and leads them out. And when he brings out his own sheep, he goes before them; and the sheep follow him, for they know his voice."
(John 10:3-4)
The flock depends on the shepherd for all that it needs. David, who was a shepherd, before being a king, was familiar with the relationship between a shepherd and his flock.
"THE LORD is my shepherd; I shall not want. He makes me to lie down in green pastures; He leads me beside the still waters. He restores my soul; He leads me in the paths of righteousness For His name's sake. Yea, though I walk through the valley of the shadow of death, I will fear no evil; For You are with me; Your rod and Your staff, they comfort me."
(Psalm 23:1-4)
The shepherd kept the flock together by calling wandering individuals back to the fold and, when necessary, brought hard- headed sheep back by gentle application of his staff. Should one of the sheep manage to get separated, and lost, the shepherd would actively seek that lost sheep until it was found. If necessary, he would risk his own life to save that sheep from any dangerous situation that it got itself into. Should a predator attack the flock the shepherd would willingly give his life to protect his sheep. The bond between the shepherd and the flock is very similar to that of a father and his family. Another facet of this relationship is that the shepherd picks the sheep; it is not the sheep, which pick the shepherd.
Jesus used many similes in describing the relationship between His people and Himself. All are pretty basic representations of the bond, which exists between God and His children. Yet, all entail a depth of meaning far greater than the word pictures they generate. Each, although being comprised of several verses, could fill volumes with what is actually being said. Each clearly expresses the love of God for His children.
[Note: All links on this page open in a new window.
If for some reason, security settings, ISP software, etc.,
you are unable to navigate this site, please visit the
Site Map page.]
Thank you for taking the time to visit
acharlie.tripod.com
Shalom,
Charlie Martin
If you find this site to be worthwhile, please
vote for it by clicking one, or all, of the above links.
Thank You.

If you would like to share this page with someone, click on the above icon.
Total number of visitors to
A Christian's Web Ministry site.
Total number of visitors to this page.