A Child's Cry
(MIDI is Bach's, "Let the Lambs Graze Safely")

(Graphic courtesy of Greg Olsen's Artwork)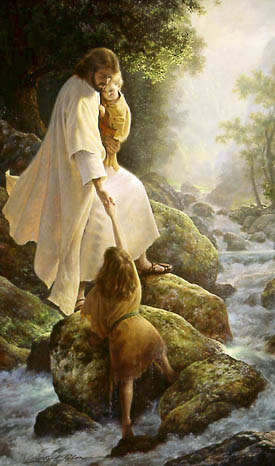 "Be not afraid, for I am always with you."
A child's cry in the night
Why did you beat me with all your might?

Was I to blame,
when you stuck my hand in the flame?

Was I so bad that you had to beat?
What did I do for you to mistreat?

Why did you give me that burn
just to make me learn?

Daddy why do you look at me that way?
You know that game I don't like to play!

Why do you lock me away all alone?
Why did you kick me and break my bone?

Why do I live in such a mess?
With not even a clean, untorn, dress?

Why doesn't someone take me away?
So I can be like other children and go out and play?

Why do you yell?
Why do I smell?
Why do we live in this hell?

Why do I fear?
Why do I tear?
Whenever you come near!

Laying there bloody and beaten
For a week not having eaten
A child's cry
As they are about to die
Uttered with one last sigh
"WHY?"
Charlie Martin
Child abuse takes many forms - (Physical, sexual, and emotional). If you are being abused, "It is not your fault!" You did not cause, earn, or deserve the abuse. You do not have to be beaten, abused, neglected, or tormented. There are a lot of people who are ready to help stop the abuse; but you must let someone that you trust (a teacher, nurse, doctor, policeman, minister) know that you are being abused. Below you'll find a link for the "National Center for Missing and Exploited Children, where you can get information and help without giving your name.


Tell someone and stop the abuse.
If you know, or suspect, a child is being abused,
If you have been abused in the past,
Report it!!
If you are an abuser,
Stop the Abuse & Get Help!

National Center for Missing and Exploited Children

A Child's Cry is an original work by Charlie Martin and is protected under the copyright laws of the U. S. No commercial use of this work is authorized without the express written permission of the author.
Individuals and organizations are granted permission to reproduce this work for their own, non-commercial, use; and/or to give a copy to a friend or neighbor.
[Note: All links on this page open in a new window.
If for some reason, security settings, ISP software, etc.,
you are unable to navigate this site, please visit the
Site Map page.]
Thank you for taking the time to visit
acharlie.tripod.com
Shalom,
Charlie Martin
If you find this site to be worthwhile, please
vote for it by clicking one, or all, of the above links.
Thank You.

If you would like to share this page with someone, click on the above icon.
Total number of visitors to
A Christian's Web Ministry site.
Total number of page visitors.